Girl on Top is ...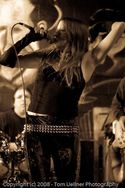 Karen De Biasse (Lead Vocals/Guitar)
Singer/ songwriter/rhythm guitarist, is an honor Graduate of Berklee College of Music, Emerson College studying music, dance and acting. She is certified by her world renowned vocal teacher of fifteen years the legendary Dante Pavone and is well known and very respected in the Boston area as a professional voice and instrument instructor.
Learn more about Karen at KarenDeBiasse.com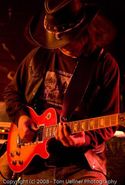 David Simmons (Guitars)
Lead guitarist virtuoso, David Simmons, is one of the best guitarists around with his soaring solos influenced by his heros Jimi Hendrix/Jimmy Page 70s rock guitar style.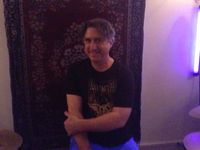 Nick Zervas  (Drums)
Nick Zervas started studying drums at age 12 and at age 14 earned his first set of Sonor drums and Zildjian cymbals, brands which he plays to this day.  Born in Boston and living in Cambridge, MA, Nick cites Joey Kramer, John Bonham, Alex Van Halen and Graham Lear as primary drumming influences.  Nick was involved in the Boston Music Scene during the 1980s and 1990s and drummed for locally successful bands Release and Attic Stew.  Since then, he has been involved with numerous independent projects.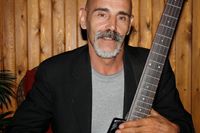 Mike Tofalo   (Bass)
Two time winner of Berklee School of Music "All Star Bass Player" Award at 15 and 17 years of age with contestants from all over the US.  At just 15 years old he was playing with Buddy Rich and was Gary Burton's Bassist for his All Star Band.  Later, as a union musician, he had the chance to play with many well known musicians such as Brad Delp (Boston), Willie Nelson, Jimmy Dickens, Kitty Wells, Buddy Rich, Chubby Checker, Pete Sears and many more.  His recent work as a Bassist and Keyboardist was for Rounder Records and Kevin Youkilis's CD "Hit's for Kids" due to be released in 2010.   Some of the styles he's played: Fusion, Rock, Metal, Country, Jazz, Big Band, Orchestra Pit!  Musical influences: Chris Squire, Tony Levin, Stanley Clark, Victor Wooten.  "I actually learn all the parts to all the instruments of a song or band that I       like" as he plays every instrument equally well as bass.  I am very excited to be part of "Girl On Top" and promise to take the energy to a new level.